GAS MIXING UNITS
As shown in the examples of the previous section, gas mixing units systems are requested to meet a wide range of operating conditions.
To offer correct solutions to all these different situations, CAM has studied, designed, and installed different types of mixing equipments. The purpose of this section is to illustrate the different types of our mixing units and to explain their features and performances. According to the source of energy used to mix the fluids, we distinguish two types of mixers:
Drawn air Mixers, "Venturi" type, which use the energy of a gas (called "motive gas") to draw in the necessary amount of air by venturi effect;
Mixing Valves (VMG), which use the pressure of both gas and air to produce the final mixture.
In regards to the flow rate of the mixture, we divide the Mixers in Fixed or Variable flow rate ones.
LPG - COMPRESSED AIR MIXING UNIT "VMG" TYPE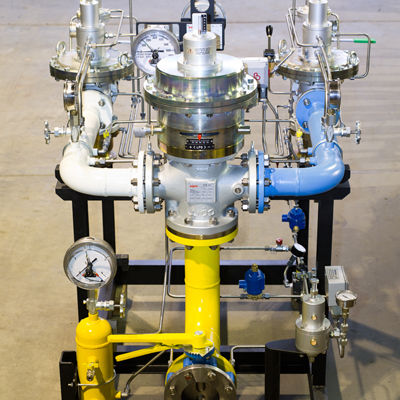 The main features of the VMG Mixing Unit are:
variable flow rate from 5% to 100% of nominal capacity
mixture outlet pressure: from 1 to 5 bar
high control accuracy of outlet pressure
fast and prompt response to the change in consumption
gas / air ratio easily adjustable
fail-safe design
These units are commonly used as stand-by system for both industrial and utilities users of Natural Gas, against a supply curtailment or interruption, offering them an alternate source of energy fully interchangeable. These units can also be used as "peak shaving" system to supplement the Natural Gas supply when the consumption rises above the contracted amount.
VENTURI MIXERS "COMPACT" TYPE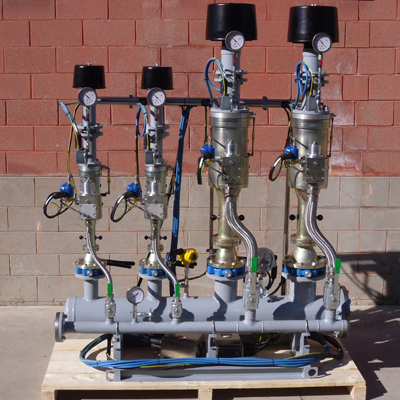 The main features of this unit are:
fixed flow rate
mixture outlet pressure up to 500 mbar
mixing ratio highly stable
gas / air ratio easily adjustable
fail-safe design
When mounted and combined in a battery these mixers can reach a very high turn-down ratio and an almost unlimited capacity (flow rate). This type of mixers is particularly suitable for civil distribution systems with big network volume and low working pressure.